Quimper, capital of Breton culture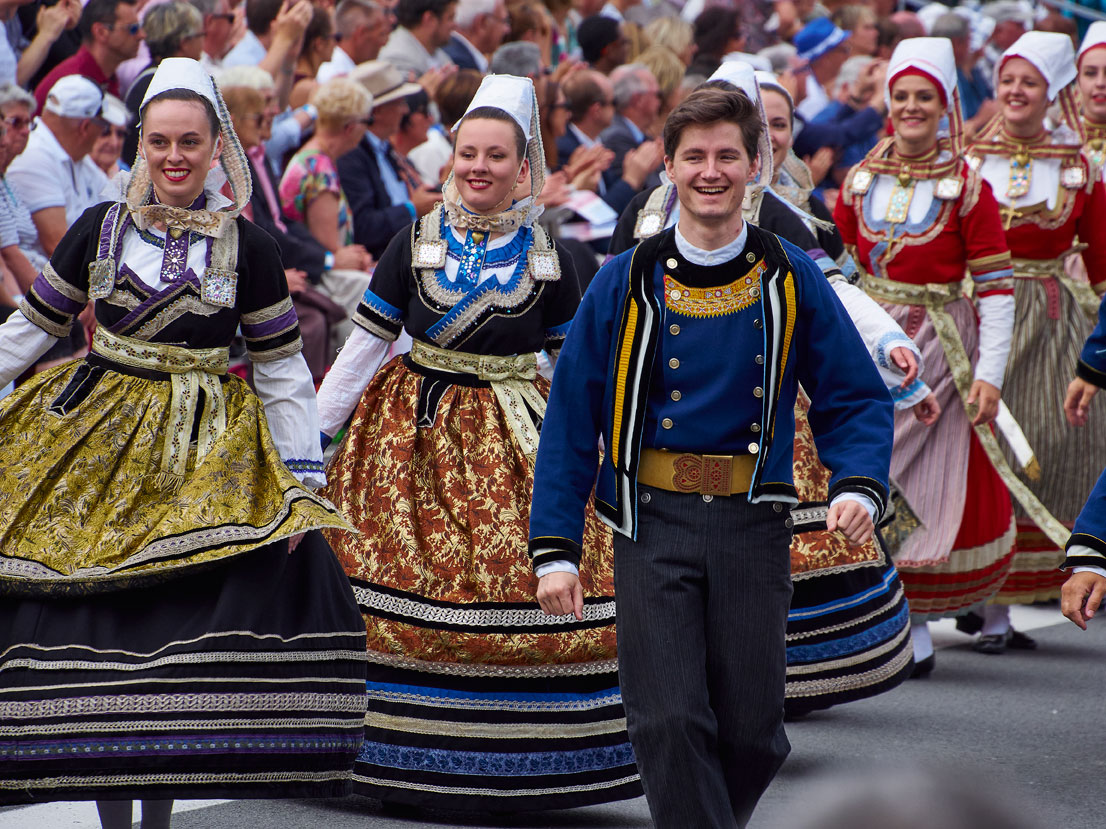 Quimper will live to the rhythm of the Cornouaille Kemper Festival to help you discover the diversity of Breton culture!
Day 1 - Bénodet & Concarneau (40 km)
Convocation at the old port of Bénodet to board the Vedettes de l'Odet for a commented cruise on the Odet. Coming down from the Montagnes Noires, the Odet deserves its title of " most beautiful river in France ". The generous nature has shaped the place. From the vires-courts and its swirls of foam to the majestic flight of an ashy heron, from Porz Meillou to the cove of Saint Cadou, the Odet changes its face to better surprise you. Return to the quay around noon.
Lunch in a traditional restaurant.
Early afternoon, visit to a craft factoryunique in Brittany, of Breton cakes and handmade pancakes. Before your eyes, 8 pastry chefs and crepe makers work according to the same recipes for 5 generations Follow the making of pasta, cakes and small cakes, the cooking in the ovens or the making of crêpes. Continuation to Concarneau for a guided tour of the famous and picturesque walled city and its cobbled streets lined with granite houses.
Installation in your hotel*** located in Quimper. Welcome drink. Dinner at the hotel. Overnight stay.
Day 2 - Quimper: Cornouaille Festival
Breakfast at the hotel. Welcome by your guide of the Cornouaille Kemper to attend the festive parade "where you will be able to admire more than 2000 dancers and ringers in the heart of the historic district. * limited number of seats.
Lunch in a traditional restaurant.
Take your seat in the new Congress Centre to attend a original creation exclusively for groups: presentation of Breton costumes, dance demonstration, discovery of the contenders for the title of Queen of Cornwall 2020 and meeting with the Queen of Cornwall 2019. Free time to soak up the festive atmosphere of the city and its free entertainment, street shows, the quays in celebration where more than 80 craftsmen present their know-how, live broadcasting Place Saint-Corentin de the 2020 Queen's electionDon't miss this not-to-be-missed event in the late afternoon, the Triumph of the Pipers: a large gathering of over 500 musicians who all sing together melodies, marches and dance tunes along the quays of the Odet closing this day of celebration in unison.