Quimper is a maritime town at the bottom of an estuary, the city was born from its link with the sea. The coastal river Odet reminds us every day of the profound influence of the tides on the city and its maritime history.
Register
Register
Register
Register
The Odet, the most beautiful river in France:
Today, the Odet, considered as "the most beautiful river in France", and its 16 km long valley, separates the Pays Bigouden from the Pays Fouesnantais, and offers from Quimper to Bénodet a whole range of beauties, both natural and architectural (manor houses, castles...).
The Odet is a Breton coastal river which rises in the Montagnes Noires at Saint Goazec and flows into the Atlantic at Bénodet. Its course is notably marked by the superb crossing of the Gorges du Stangala, a high tourist spot frequented by hikers and kayakers. It is 62 km long. Lined with castles, manors, magnificent forests, landscapes changing at almost every bend and meander, the Odet has been called the most beautiful river in France.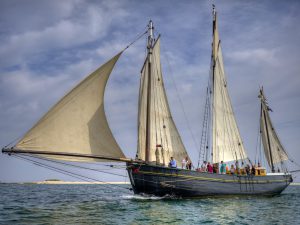 Quimper, maritime city and capital of sailors:
Numerous places illustrate, often in a magical way, this maritime heritage: Cape Horn (a footbridge and a district), the island of Désirade, the Marquesas Islands or the island of Marie-Galante (street names), the archipelago of Keguelen (a city, a boulevard).
Many famous explorers and navigators of the 18th and 19th centuries were born or educated at the Jesuit College in Quimper:
■ Yves de Kerguélen-TrémalecThe explorer who gave his name to the Kerguelen archipelago
■ Louis de Kerlerecwho was the last governor of Louisiana
■ Louis de Saint AlouarnHe took possession of Australia in the name of Louis XV
■ René Madecwho created an army to serve the Great Mogul who made him a Nabob
■ But also : Edmond Jules Caronwho succeeded in mapping the Niger River; Pierre Paul de la GrandièreGovernor of Cochinchina....
Quimper, a maritime city and a city of skippers:
This ability of the people of Quimper to project themselves onto the world's greatest oceans has not disappeared with time. Today Quimper can be proud to be the town in France which has seen the birth of the greatest number of famous skippers who successfully take part in ocean races. Most of them were trained in the remarkable Cornouaille sailing schools, such as Roland Jourdain, Bertrand De Broc, Marc Guillemot, Jean Le Cam, Vincent Riou, Michel Desjoyaux... not forgetting Anne Quéméré who rowed across the South Atlantic in 2002, the North Atlantic in 2006 and completed the Pacific Solo in 2011.