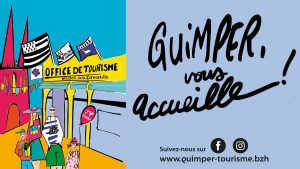 The Quimper Tourist Office welcomes you with respect for the barrier gestures from Monday to Saturday from 9.30am to 12.30pm and from 1.30pm to 6pm
♦ Hydroalcoholic gel available
♦ Wearing a mask is mandatory
♦ Ground markings to respect the safety distance
♦ Plexiglass on reception desks

You can also contact us by email at infos@quimper-tourisme.bzh or by telephone on 02 98 53 04 05.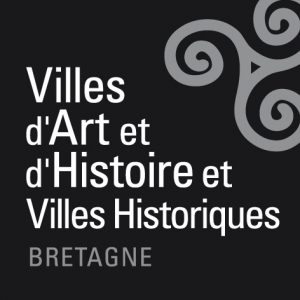 Welcome à quimper,
city of art and history.
Welcome to the Quimper Cornouaille Tourist Office. Let yourself be charmed by this mythical city in Brittany and its three ancient hearts. A gourmet town with lively shopping streets, the cultural capital of Brittany, the National Flowering Grand Prix, Quimper is situated in the heart of Cornouaille and its maritime landscapes at the end of the world, authentic and preserved.

Baradoz: Trugarez exhibition

Details

Organizer School of Art Embroidery

Baradoz: Trugarez exhibition From 06 April 2021 to 18 March 2022, Baradoz, the exhibition space for textile art and Haute-Couture embroidery, is showing its gratitude to the public. While the health crisis imposes its restrictions on cultural and artistic venues, the new exhibition aims to thank the visitors who made "War an Hent..." the 2020 exhibition an undeniable success. We are very touched by the public's enthusiasm and the many messages of support.

Location

16, rue Haute - Locmaria - 29000 Quimper

Time

From Tue 6 Apr 2021 to Fri 18 Mar 2022

CATHEDRAL SHOW

KEJADENN - A RED AN DOUR

SHOW ON THE CATHEDRAL KEJADENN - A RED AN DOUR The cathedral will be adorned with a new suit of lights! Kejadenn (Confluence in Breton), a new creation in three parts, pays tribute to the three elements of the triskell: water, earth and fire. The first part is devoted to the theme of water. Between dream and imagination, this polychromic show will take the audience on a fantastic journey "A red an dour" (As the water flows). ♦ Three sessions per evening on Fridays, Saturdays...

Location

Place Saint-Corentin - 29000 Quimper

Time

Fri 3 Dec 2021 to Sun 2 Jan 2022

Christmas lights - Locronan

8th edition

Christmas Lights - Locronan → Throughout the event, from 11 December to 2 January: ♦ Exhibition of the cot of the world (with more than 250 santons) on the ground floor of the Charles Daniélou art museum, which will be open on this occasion from 4pm to 9pm (with an exhibition of sacred art by Micheau Vernez (painter and ceramist) on the first floor). Access to the cot and the exhibition for one symbolic euro with the possibility of a free participation). ♦ Presence of a small Christmas market: ...

Time

From Sat 11 Dec 2021 17:30 to Sun 2 Jan 2022 23:00

CANCELLED / Interactive pick-up concert: Jean-Christophe Cholet and Vincent Mascart

First part: jazz students from the Conservatory

CANCELLED Interactive "pick up" concert : Jean-Christophe Cholet and Vincent Mascart Vincent MASCART informs us that, due to his positivity to covid19, he is forced to cancel his participation in Sunday's concert. We wish him a speedy recovery. We will reschedule the concert and keep you informed of the date. We are working with our service provider Helloasso, to refund the tickets of those who have booked. We hope that the development of the pandemic...

Location

39, boulevard de Bretagne - 29000 Quimper

Time

Sun 9 Jan 2022 from 17:00 to 19:00

VISIT : THE STAINED GLASS WINDOWS OF SAINT-MATHIEU CHURCH

Guided tour

VISIT : THE STAINED GLASS WINDOWS OF SAINT-MATHIEU CHURCH A dive into the heart of the Passion! ♦ At 3pm ♦ Duration 1h30 ♦ Rdv. Saint-Mathieu Church: 32, rue du Chapeau Rouge - 29000 Quimper ♦ Compulsory health pass to be presented to the guide ♦ Wearing a mask is mandatory during the visit ♦ Online booking at www.quimper-tourisme.bzh

Location

32, rue du Chapeau Rouge - 29000 Quimper

Time

Sun 16 Jan 2022 from 15:00 to 16:30

VISIT: THE ART OF STAINED GLASS IN THE CATHEDRAL

Guided tour

VISIT: THE ART OF STAINED GLASS IN THE CATHEDRAL How does man tell the story of religion and society through an art form that is thousands of years old? ♦ At 3pm ♦ Duration 1h30 ♦ Rdv. Maison du Patrimoine : 5, rue Ar-Barzh-Kadiou - 29000 Quimper ♦ Compulsory health pass to be presented to the guide ♦ Wearing a mask is mandatory during the visit ♦ Online booking at www.quimper-tourisme.bzh

Location

5, rue Ar Barzh Kadiou - 29000 Quimper

Time

Sun 23 Jan 2022 from 15:00 to 16:30

Laurent MAUR quartet

Chief Larry

Laurent MAUR quartet A harmonica and a fork... ! That's the program displayed on the cover of Laurent Maur's latest album, Chef Larry! A repertoire in homage to his friend Larry Smith, chef in Chicago. Laurent Maur, one of the most accomplished and respected harmonica players, invites us to dream around a repertoire of French songs and jazz. Thanks to his dexterity, the harmonica occupies the space of his voluble playing, accompanied by a singing double bass, a ...

Location

4, boulevard Dupleix - 29000 Quimper

Time

Sun 13 Feb 2022 from 17:00 to 19:00

VISIT : THE KERFEUNTEUN DISTRICT

Guided tour

VISIT : THE KERFEUNTEUN DISTRICT The Maison du Patrimoine invites you to rediscover the history of Quimper through urban walks in different districts of the city. Often unknown to the inhabitants, these areas are full of heritage, architectural and landscape treasures. This March, let's zoom in on the Kerfeunteun district! From the Trinity Church to the Seminary, a stroll through a neighbourhood like no other! ♦ At 3pm ♦ Duration 1h30 ♦ Rdv. Church of the...

Location

Boulevard des Frères Maillet / Rue de Missilien - 29000 Quimper

Time

Sun 13 Mar 2022 from 15:00 to 16:30

VISIT : CUZON, A VILLAGE IN TOWN

Guided tour

VISIT : CUZON, A VILLAGE IN THE CITY The Maison du Patrimoine invites you to rediscover the history of Quimper through urban walks in different districts of the city. Often unknown to the inhabitants, these areas are full of heritage, architectural and landscape treasures. This March, let's zoom in on the Kerfeunteun district! The countryside at the gates of the city! ♦ At 3pm ♦ Duration 1h30 ♦ Rdv. Chapelle de Cuzon : 25, rue de la chapelle de Cuzon - 29000 Quim...

Location

25, rue de la Chapelle de Cuzon - 29000 Quimper

Time

Sun 20 Mar 2022 from 15:00 to 16:30

20 YEARS OF APREM'JAZZ

PAPANOSH invites Napoleon MADDOX and Roy NATHANSON: HOME

20 YEARS OF APREM'JAZZ PAPANOSH invites Napoleon MADDOX and Roy NATHANSON : HOME Take five musicians from among the best young French jazzmen, give them an encyclopaedic musical knowledge, shake it all up and you get Papanosh. Since 2006, this group has been presenting hypnotic music that takes us to the body and goes straight to our hearts! For this project ''Home'', the group brings together Roy Nathanson, saxophonist and poet from New York, and Napoleon Maddox, rapper and beat boxer...

Location

Esplanade François Mitterrand - 29000 Quimper

Time

Sat 2 Apr 2022 from 20:00 to 21:30