The Tourist Office and the Maison du Patrimoine offer guided tours throughout the year. Come and discover them!
VISITES GUIDÉES DE QUIMPER – SEPTEMBRE 2022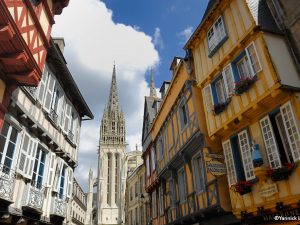 TOUS LES JOURS DU 11 JUILLET AU 9 SEPTEMBRE
(SAUF LES DIMANCHES, JOURS FÉRIÉS, LE 4 AOÛT, LES MERCREDIS DU 20 JUILLET AU 24 AOÛT ET LE 3 SEPTEMBRE)
/ 15h
LET US TELL YOU ABOUT QUIMPER
Don't know Quimper? Follow this general tour to discover its medieval streets, Saint-Corentin cathedral, the old port and the Terre au Duc.
♦ Tickets can be purchased at the Tourist Office and online at www.quimper-tourisme.bzh subject to availability.
♦ Prices: 6/3 €, free under 12 years old
♦ Duration 1h30
♦ Rdv. Office de Tourisme - 8, rue Élie Fréron - 29000 Quimper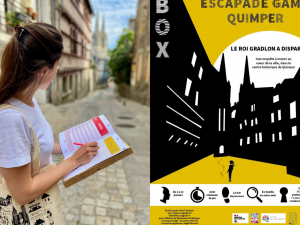 A GAME ESCAPADE BOX TO DISCOVER QUIMPER WHILE PLAYING
Last night, late in the evening, someone stole the National Gallery's famous painting The Flight of King Gradlon. It's up to you! Investigate in the city with the box-game to catch the thief! Many surprises inside!
♦ Available at the Tourist Office
♦ Game from 1 to 10 people
♦ Rate: 25 euros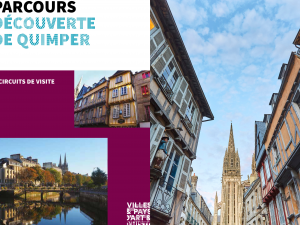 THE QUIMPER DISCOVERY TRAIL BROCHURE
An edition of 3 circuits to visit the old town of Quimper alone, with friends or with the family. The 2 to 4 km routes will guide you through the heart of the fortified city, in the Terre au Duc suburb, to the delightful Locmaria district or along the Odet River in a Belle Époque atmosphere.
♦ Brochure available at the Tourist Office
♦ To download the brochure click here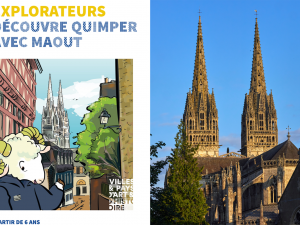 THE BROCHURE DISCOVER QUIMPER WITH MAOUT!
A game book for a fun discovery of Quimper. Carry out the investigation as a family and help Maout, the little ram, to solve the riddles. A reward awaits the budding explorers...
♦ Booklet of games available at the Tourist Office
♦ Duration: 45 minutes
♦ To download the brochure click here